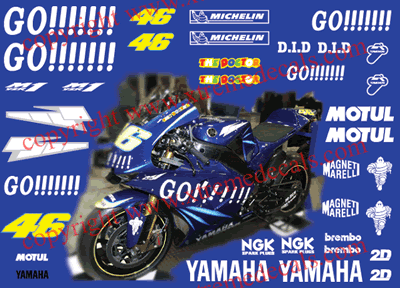 They are shown on a bluebackground so you can see the white decals clearly. 34 perfectly cut Yamaha GO Race Decals as shown
These decals can be Clear Coated
They are made for the Yamaha YZFR6 (YZF R6, YZF-R6, 600) and YZFR1 (YZF R1, YZF-R1, 1000) of the years 1998, 1999, 2000, 2001, 2002, 2003, 2004 and 2005. and can easily be adjusted to fit any other bike models.Front:
1 x 46
1 x GO!
2 x THE DOCTOR
1 x Yamaha
1 x Motul
Side:
2 x Michelin Man
2 x YZR M1
2 x GO!
2 x Yamaha
2 x Motul
2 x Magneti Marelli
2 x Michelin
2 x Termignoni
2 x 2D
2 x NGK
2 x Brembo
Tank:
2 x Stripes
1 x GO!
Tail:
2 x 46
1 x GO!
They are made out of a TOP quality outdoor vinyl which has a 7 year life, they will not fade or peel and are carwash safe
Computer cut, highly detailed graphics and they can be applied to any smooth or semi smooth surface. There is no background only the graphics or text you see in the sample.
Complete detailed installation instructions included.
When you choose a redueced size the entire kit is shrunk to that size so if for example a decal was 10 inches long when you choose 80% it will be 8 inches long