We manufacture the highest quality Sports and Motorbike decals, logos, insignia & graphics. All of our products are made from the highest quality vinyl which has a 7 year outdoor life. They can be applied to any smooth surface and can be clear-coated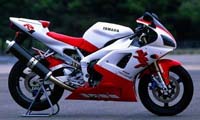 The Yamaha R1 1998 Model - see all decals that fit this bike

1998 Yamaha R1 1998 Specifications

Launched in 1998 the Yamaha YZF-R1 was available in white/red or blue, in the UK the blue proved to be the most popular and was in very short supply, early models were subject to a worldwide recall for a clutch problem.
---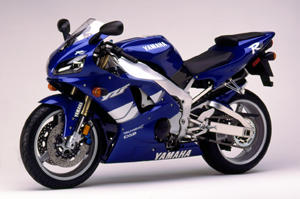 The Yamaha R1 1999 Model - Buy decals for this bike

1999 Yamaha R1 1999 Specifications

The 1999 YZF-R1 apart from the obvious paintwork and graphic differences was more or less unchanged apart from a redesigned gear change linkage also the gear change shaft length was increased for better gear shifting. Fuel tank reserve capacity was reduced from 5.5 litres to 4.0 litres,the total fuel tank capacity was unchanged at 18 litres. A second worldwide recall to change a coolant hose clamp under the fuel tank which could under hard use come adrift affected the early 99 models, 98 models were all recalled .
---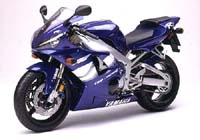 The Yamaha R1 2000 Model - Buy decals for this bike

2000 Yamaha R1 2000 Specifications

Although outwardly not much appears to have changed the new YZF-R1 has many differences to the models it replaces
---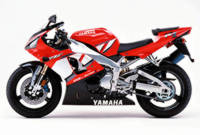 The Yamaha R1 2001 Model - Buy decals for this bike

2001 Yamaha R1 2001 Specifications

The 2001 model R1 appears to be unchanged apart from changes to the colour scheme.
---
.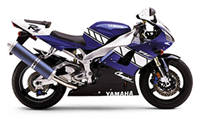 The Yamaha R1 2001 Model
2001 Yamaha R1 Champions Edition 2001 Champions Edition Specifications
Now for 2001, there's also an R1 Champions Limited Edition model, which includes special paint scheme and stamped aluminum authenticity plate signifying the bike's limited production number..
---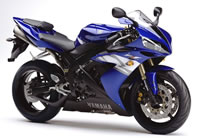 The Yamaha R1 2004 Model
2004 Yamaha R1 2004 Specifications
The 2004 model R1
---
.